It was late afternoon on Friday April 13th, I was finishing up work for the week at my home office and saw a call from a number I didn't know: I almost didn't pick it up. A breathless woman explained: "Your son is okay, the medics have just arrived." The blood drained from my face as she explained that she saw Liam get hit by a car and thrown off his motorcycle across an intersection. He was about 10 blocks from the house; I ran to the car and booted over the to the accident scene where the medics were already loading him onto a gurney. His left leg was torqued at an unnatural angle.
Because of my dour Scottish background, I do really well in emergencies, hunkering down and focusing on the task at hand, with a grim determination normally seen in war settings by my forebears (e.g. Dunkirk, Gallipolli). I will be really good during the apocalypse, a North Korean nuclear attack or the end of the world as predicted by the Mayan calendar.
Jennifer is much better at the nurturing part – she wept as we raced over to the county hospital in Oakland, which is really good at trauma care, and was by Liam's side in a flash providing comfort. Highland Hospital, featured in this documentary, serves all comers so the ER waiting room is like the United Nations, a DMV with people in scrubs. Liam was held up by a guy being treated for gun shot wounds but he was in the OR by 8 PM having a steel rod inserted in his femur. They had him out by 10 PM and wanted him on crutches the next day and discharged by Noon, which he was. Amazing.
Liam healed quickly and was back skateboarding by the summer. We are very, very grateful that the accident turned out the way it did. He is a senior this year and juggling skating and school obligations and trying to figure out what happens next. Liam is a connoisseur of Ray Ban sunglasses – these are worn everywhere at all times (not sure how they perform in the shower) – and he recently started wearing a watch as a retro fashion statement.
Liam's latest video (below) was produced with a film crew and is pretty slick. After Red Bull posted it on their Facebook page it went viral and received over 100,000 views.
[youtube http://www.youtube.com/watch?v=f2X-LGFGSu0]
One of ways you know that Lexie is home for a visit is that all the car radio presets have been aligned with super pop/dance beat/throb-o-riffic stations. Rhianna, Ke$sha, Ne-Yo, Maroon 5 Flo Rida. (For the record, Lexie says she prefers Taylor Swift, Of Monsters and Men and Mackelmore.) Several independent, double blind, peer reviewed studies indicate that anyone over the age of 50 listening to this kind of music for more than five minutes at a stretch will experience sudden, rapid bone loss (Instant Osteoporosis). Actually, I am partial to "Diamonds" by Rihanna.
[youtube http://www.youtube.com/watch?v=lWA2pjMjpBs&w=560&h=315]
I will have to drop by Walgreens later today and pick up a back brace, walker and cane. God help me make through the holiday.
Lexie was a lifeguard and counselor this summer at a camp near the South entrance to Yosemite. The place was well managed, staffed by other keen young college students and took care of campers and counselors well. She had a great time: what's not to like about summer by a lake in California?
Lexie is in second year at U Vic and living in house with three roomates, who she really enjoys. The house is 50+years old with single pane windows, no insulation and a randomly functioning furnace so she is learning all about keeping costs down by wearing lots of sweaters. And that California is warmer than she thought.
I helped her get moved in in September, renting a ginormous pickup truck to with which to move stuff around. The truck was so big that I couldn't see over the hood and drove in constant fear of picking up several members of the dominant ethnic sub-group in the City – old white people (they move slowly) – on the grill, scooping them up as I turned right through an intersection. How would I explain this to Budget when I returned the vehicle?
In the small miracles department, we renovated our bathrooms and kitchen this Spring and did so on-budget: doing stuff to a 100 year old house located in the Bay Area that must comply with current codes (We were law abiding and got a permit.) requires a calm demeanor and open check book. The latter is difficult for me (See reference to dour Scot above) but the two guys who did the work were straight up, decent fellows and we got through it. It meant learning how to shop as if solving a complicated puzzle: this tile won't go with that faucet, but that faucet is expensive and doesn't come in brushed nickel; should we splurge on the stove or cut back there and spend more on cabinets? The children insisted we keep the kitchen floor (above), which we had put together using tile samples 12 years ago. Remarkably, we were able to find tiles to patch it and keep the pattern.
This summer, Jennifer and I met some friends that I had worked with 30 years ago in Montreal and took a road trip with them down the South side of the St. Lawrence to the Gaspe. The shore was populated by French "habitants" in the 1600s in long narrow farms that extended from the river edge and many of which are extant.
Rural Quebec feels very French – every village and town has an imposing church built of grey stone and capped with a silver painted metal roof. We stayed at small motels along
the way, none owned by a chain and each kept spotlessly clean. We had a fine meal at a boutique hotel whose rooms had, instead of televisions, stacks of books (in French). And not just any old books, but heavy duty tomes by Camus, Sartre, Jacques Ellul and Michel Foucault. You know, just the kind of reading I polish off before bed.
And like so much of Canada, a lot of space – coming from California, one feels the openness, the silence and the wilderness nearby. The Gaspe itself is quite rugged and empty. It was once a center of cod fishing (That's what brought the French,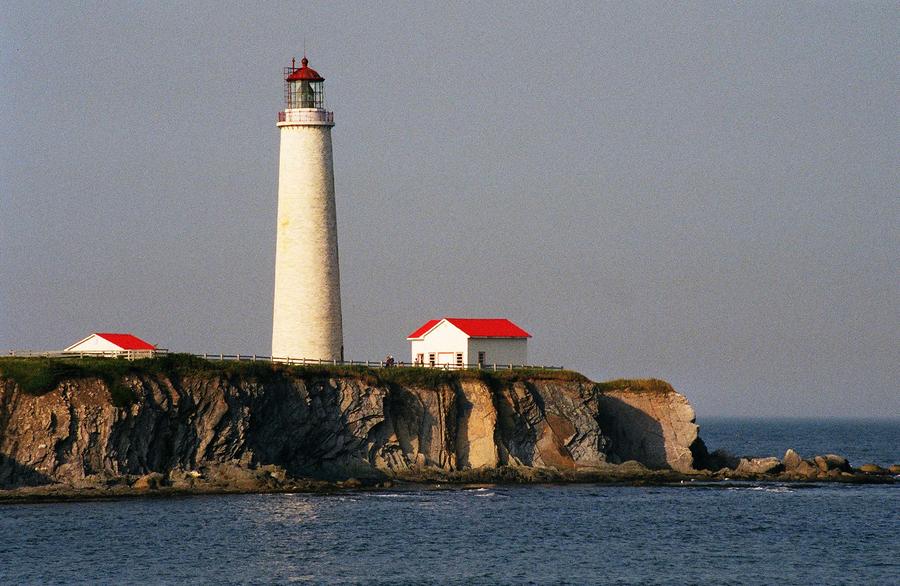 Spanish, Portugese and English there originally), mining and forestry, but today the fish are gone and neither mining nor timber are economical.
We met a friend whose family has deep roots in the Gaspe, a pocket of English speaking folk – descendents of Irish who came to the New World for a better life – in what is a very French region. My execrable French came back some and I was able to communicate reasonably well with locals.
I have gotten seriously into – that would be obssessed about – making sourdough bread. I have my own starter going, have put a large pizza stone in the bottom of the oven and have jury rigged a steam generator using a pressure cooker (commercial bakers steam their bread with they first put it in the oven to develop the crust). The latter will sometimes blow if I leave it on the stove too long, scaring the bejesus out of everyone in the house. Jennifer is very patient about the coating of flour everywhere and the stream of very large packages that show up on our doorstep (I order 50 pound bags of flour on Amazon.com, which I rip through pretty quickly.).
There is nothing in this post about Jennifer because she likes it that way. Enough said.
Well, that's about it. We moved to California 20 years ago this past Spring, without jobs or a network – proof that God looks after fools – arriving as Los Angeles burned during the riots triggered by the Rodney King verdict. The State was in a serious recession – I felt right at home (See dour Scot reference above) and literally started calling folks out of the telephone book about work. And, we now feel as though we have made a life here. The kids will be launched soon and we are beginning to scheme about what the next phase of life looks like.
We are mindful of the great needs – domestically for work for so many, for jobs, for health care, globally for an end to poverty and war in many locations, for freedom and justice in others – and pray for the same.
May you have a blessed holiday season, may you sense God's love and kindness and may 2013 treat you well.
For unto us a child is born, unto us a son is given: and the government shall be upon his shoulder: and his name shall be called Wonderful, Counseller, The mighty God, The everlasting Father, The Prince of Peace. – Isaiah 9:6
[youtube http://www.youtube.com/watch?v=LFBIJgkj_-g]